Northern Michigan's Experts of Insulation Solutions.
Grand Traverse Insulation by GeoFurnace is your source for everything to keep your home, business, garage or out-building as comfortable as you need it.  Located in Traverse City, our experts have been in over 1200 homes in the region.  Whether it is Spray Foam insulation, Traditional Insulation, Crawl Space Encapsulation or Home Performance Evaluations, Grand Traverse Insulation can provide the solution!
Spray foam, cellulose, and mineral wool insulation is our speciality.  We can turn any space in to comfort winter or summer.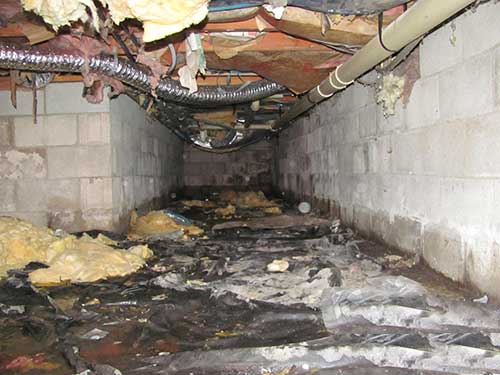 Is this what your crawl space looks like?  Ugh…we can help make it clean, insulated and a workable space again.
Living in Northern Michigan ice dams are frequent. Ice dams appear when roofs are not properly insulated.
Home performance evaluations
Our Home Performance Analysis will help you understand how much energy your home is using and how much it's wasting.
Using a variety of diagnostic tools, like infrared cameras, blower door testing, and hands on service, we will identify problem areas that affect the home's overall comfort,
indoor air quality and safety.
Spray Foam Insulation
Our Spray Foam Insulation Provides Versatility & Maximum R-value
The insulation "team" that's supposed to make our homes comfortable and energy efficient is truly a motley crew. In the old days, sawdust was sometimes dumped inside walls to slow heat loss. Then came vermiculite — porous lightweight pebbles with the look and feel of kitty litter.
Today we still rely on an old-timer, fiberglass batt insulation that's made from spun glass fibers. But if you're looking for a star player on the insulation team, a standout with qualities that other types of insulation can't touch, it's got to be spray foam. More specifically, we're talking about closed-cell polyurethane spray foam.
Unique Advantages of Spray Foam
R value: Poly spray foam has a higher R-value per inch than any other commonly used insulation —R-6.2 or higher, depending on the formulation.
Air barrier: Spray foam air-seals and insulates in one step. Its ability to expand and fill gaps and cracks make it an ideal air-sealing material, and it stays in place because of its super-adhesive qualities. Spray foam is often spot-applied as an air-sealing treatment prior to filling an attic with blow-in insulation. But when applied in more generous amounts, it can eliminate the need for other types of insulation.
Waterproof: Moisture will soak its way through fiberglass and cellulose insulation, but polyurethane spray foam stops it cold. Its closed cell structure means that water can't migrate from one tiny cell or bubble to a neighboring one.
Foolproof: Did you know that a void (missing insulation) of just 5% of an insulated area can diminish overall insulation performance by as much as 50%? It's very difficult to install fiberglass insulation perfectly, so voids are not uncommon. But spray foam's expanding, super-sticky characteristics just about eliminate the possibility of voids. And once the foam cures, it's not going to settle or shift like fiberglass or cellulose can.
Two Basic Types of Spray Foam Insulation
1-part foam: You've seen and probably used this type of spray foam, which comes in pressurized cans that are sold at home centers and hardware stores under brand names like GREAT STUFF™. This single-component foam is super-sticky, and expands at different rates (depending on the type you buy) immediately after application. Since it seals gaps as well as insulates, this product is often referred to as an "insulating foam sealant."
2-part foam: To insulate an entire basement or attic with spray foam, contractors use 2-part polyurethane foam that comes in a pair of pressurized metal containers. When both components (resin and a catalyst) are mixed together at the nozzle, a foaming chemical reaction takes place that causes the material to expand.
Blown-in Insulation
Blown-In Insulation is Cost Effective
The combination of too little insulation and too much air leakage can waste a great deal of energy. That's why home performance experts recommend that air-sealing improvements be combined with insulation upgrades.When attic air sealing is combined with an attic insulation upgrade, it's possible to reduce heating and cooling costs by as much as 40 percent. Wouldn't you be interested in cutting your "comfort" costs nearly in half?
If you have an unfinished attic, you'll be surprised at how affordable it is to seal air leaks between your living space and the attic and upgrade attic insulation by having blown insulation installed. Both energy-saving upgrades can usually be completed in a single day.
If you haven't yet made this energy-saving investment, it's definitely worth doing. Once it's complete, there's no maintenance to worry about. An insulation upgrade is a once-and-done improvement you'll enjoy for as long as you own your house.
Frozen gutters and icicles hanging from your roof eaves are tell-tale signs of ice dams. An ice dam on your roof can cause damage to shingles, resulting in water leaks in your attic and damage to drywall, furniture, and flooring inside your home.
While a roofing contractor can provide a temporary solution to your ice damming problem, Grand Traverse Insulation can prevent future ice dams by sealing air leaks and improving the insulation in your attic.
What Causes an Ice Dam?
Ice damming occurs when heat from inside your attic warms the underside of the roof and causes snow and ice on the roof to melt. When the water hits the cold overhang and gutters, it will refreeze and form an ice dam and icicles. As the ice builds up a dam near the eave, melting water and rainwater will puddle behind the ice dam, and can leak underneath roof shingles and into your home. A water spot on your ceiling is a sign of a leaky roof.
There are several factors that can lead to ice dams, including inadequate attic insulation, poor attic ventilation, and clogged gutters.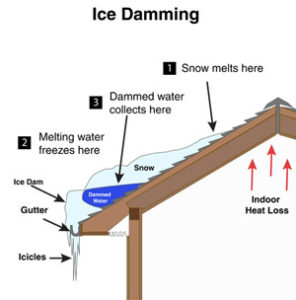 How to prevent ice dams:
Chipping away at the ice on your roof can cause damage to your shingles. The best solution for preventing ice dams and winter roof leaks is to properly air seal and insulate your home. These upgrades will pay for themselves in fuel and electricity savings, as well as provide you with a more comfortable, less drafty home.
We offer all the solutions you need to prevent ice damming:
Seal & insulate air ducts
Your furnace may heat the air up to 100 degrees or more and send it through leaky sheet metal ducts through a 30 degree attic. It's inevitable that heat gets into the attic it's running through. This means you get less heat delivered to the room intended – so you have to run the furnace more to keep your home heated – and that costs you money.
Air sealing & attic insulation
Air sealing should always be done before adding insulation. In addition to preventing ice dams in the winter, attic air sealing can help solve other issues like drafty rooms, uneven temperatures, and high heating or cooling bills. Sealing leaks will help your attic insulation perform like it should. By insulating without air sealing first, air leaks that need to be sealed (such as around can lights, drywall to stud seams, pipe and wire holes, openings around chimneys and duct chases, etc.) will be buried under a foot or more of insulation.

We offer effective air sealing and a wide range of high-performance attic insulation options, including spray foam and blown-in insulation.

Crawl Space Encapsulation
Is your Crawl Space useable? Musty? Dirty? Un-insulated? Many homes in Northern Michigan are set on partial or full crawl spaces, most of which are an avenue for energy loss. As usual those areas you can't see sometimes pose the biggest energy loss in the home and the crawl space is certainly one. We all know that air often flows from the bottom up. In many homes that begins in a leaky crawl space.
Seal out musty odors.

Reduces energy costs with insulation.

Allergens such as mold and dust mites throughout the home can be reduced.

Greatly improves indoor air quality throughout the entire home.

Rid your crawl space of moisture.

Make a dry, clean and usable storage area.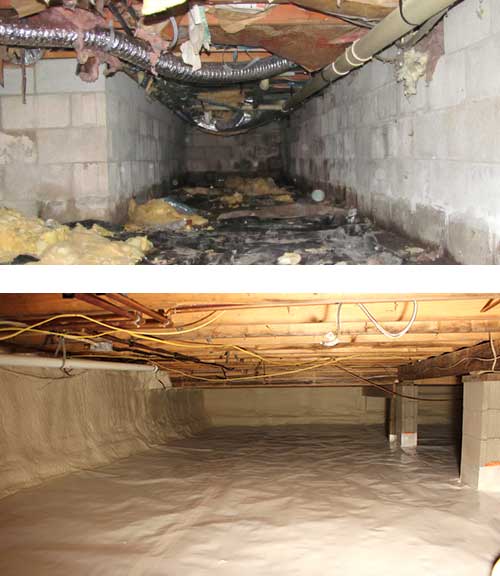 Quick Expert Connect
Just have a quick question? Pop us a note and we will try to respond as quick as possible.